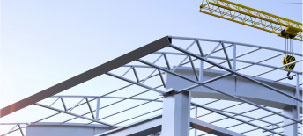 Our shop capacity to date includes:
Steel Specialties, Inc. Supplies Beams, Angles, and Tubes
As one of the biggest suppliers of beams, angles, and tubes in the El Paso area, we are able to provide you and your contracting team with the supplies necessary to meet your design goals. We understand the necessity and importance of these materials to keep on schedule, which is why we work to meet your deadlines. Our experience in estimating, fabricating, and cutting means that you don't have to worry about overspending or being short on material. 
Steel Beams
Steel Specialties, Inc. carries steel beams necessary for your construction project. We stock and supply beams ready to be cut down to your sizing needs. Whether your project requires a single beam or fabricated and erected frames, we can meet your structural steel needs.
Types of Beams:
Simple. The beam has a single span supported at the ends, often referred to as a supported beam.
Continuous Beam. These beams rest on more than two supports and can be a single beam used for the entire length
of the structure, supporting columns and walls.
Semi-continuous Beam. A beam with two spans with or without resistance at the two ends.
Cantilever Beam. Supported on only one end and the other projects beyond the support or wall.
T-beam. Long bearing structure of reinforced metal with a T-shaped cross-section.
H-beam. Also called W beams, this type of beam lacks tapered flange at the top and base and resembles the letter H when placed on its side. Given their wider structure, H-beams are stronger in their ability to bear more weight at longer lengths.
S-beam. Typically used in residential construction, these type of beams, also known as Junior beams, are known for their tapered flanges at the top and base.
*Please contact us regarding your specific needs.
CNC Robotic Welding Machine
Steel Specialties, Inc. is proud to be one of the only structural steel fabricators in El Paso to operate the CNC Robotic Welding Machine. This state-of-the-art equipment allows us to import CNC files into the machine, where it is then produced fast and efficiently. In fact, we are able to produce up to 10 beam and column assemblies a day compared to a manual welder, who could only produce one or two a day.
Angles
Available in different shapes and dimensions, Steel Specialties, Inc. supplies angles to meet your construction needs in El Paso and neighboring cities. Angles are typically used in commercial buildings or projects. The form of a steel angle is bent with angles measuring anywhere between 0 and 180 degrees, with most angles measuring near 90 degrees. They can also be bent equal or unequal. Steel angles are specifically most suitable for commercial and industrial projects. Their varying sizes and configurations are used to support shelving and weatherproofing.
Other uses for steel angles include:
Table saws
Warehouses
Fencing posts
Frames for support
Desks
Workbenches
Tubes
Steel Specialties, Inc. carries a wide stock of tubes for various application needs. We offer a variety of shapes, diameters, and thickness, as well as the service to cut to length, giving you the right steel tubing for your specific project. Steel tubing has a combination of benefits including durability, strength, and affordability. A common use for steel tubes is commercial buildings.
Tube shapes include:
Round steel tubes
Steel rectangular tubes
Steel square tubes
Galvanized square telescoping tube
Steel hammered tube
Sizing of Beams, Angles, and Tubes
All products are purchased at standard sizes of 20 Ft, 40 Ft, and 60 Ft. Shorter remnant sizes are also available. For an estimate of material, please email us at sales@steelspecialtiesinc.net
Contact Us Today
As you prepare for your next construction project, give us a call at 915-590-2337. At Steel Specialties, Inc., we have the supplies necessary to meet your construction goals. We look forward to supplying your demands.