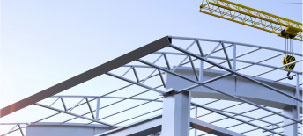 Our shop capacity to date includes:
Wrought Iron Work
In addition to steel and metal, at Steel Specialties, Inc. in El Paso, we offer side services in wrought ironwork.
If you're a contractor in need of wrought iron to complete the additions to your building, we can provide you with the right amount of material to carry out your project. Our team of skilled estimators and detailers can also guide you in the right direction if you're requiring advice on selecting materials.
Steel Specialties, Inc. Offers Wrought Iron Services
As a commercial supplier and fabricator, we work with local contractors in El Paso to supply essential material for additional items needed around the building or site. Whether you're creating a new car dealership, school, medical office, gym, or community center, our wrought iron work can help meet your demands.
We can provide you with wrought ironwork for the following items:
Doors
Gates
Fences
Railing for stairs and walkways
Contact Us Today
As you prepare the plans for your next project or construction in El Paso and nearby areas, keep Steel Specialties, Inc. in mind. We have a large supply of steel, metal, and other materials to help complete your project. Contact us today at 915-590-2337 or email us at sales@steelspecialtiesinc.net. We look forward to helping make your project goals a reality.