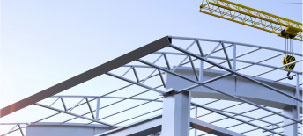 Our shop capacity to date includes:
What Makes Steel Specialties, Inc. the Experts in Steel Fabrication?
For over 30 years, Steel Specialties, Inc. has contributed to major buildings, schools, car dealerships, and community centers in El Paso, Texas.
As we continue to serve the area with structural steel fabrication, a reliable stainless steel supplier, a joist and deck supplier, as well as other miscellaneous steel fabrication services, our commitment to you as a customer is our primary focus. Our mission is to help your construction goals and projects become reality.
Advantages of hiring us
Along with decades of experience in steel fabrication, the advantages of hiring us for your next project include:
Expertise. All employees are trained to meet a high level of standards and skills.
Projects completed. We've helped complete large projects such as the Southwest University Park and the Medical Center of the Americas.
Efficiency. Our team is capable of performing at a rate that will ensure your project is completed within schedule while also enhancing the security of the building.
Benefits of Using Structural Steel For Fabrication
Durability. Steel is widely used in commercial buildings because of its ability to combat strong weather conditions and is stronger than most other materials used in buildings such as concrete. The lifespan of steel is also much longer than other materials, which means you don't have to worry about replacing the building's foundation or any maintenance upkeep.
Customization. With its ability to transform into many different types of shapes, structural steel is an excellent choice for businesses needing a variety of designs. Steel has the capacity to be bent and molded in limitless ways.
Safe and Sustainable. One quality of steel that is rarely mentioned is its sustainable characteristics. Steel is recyclable and has a small carbon effect. As more steel is produced, used, and recycled in buildings, the less waste we see from other types of materials.
Affordability. Compared to other building materials, steel is an affordable source of construction material. Given its longevity, the one-time costs associated with steel mean that you won't have to worry about paying for maintenance.
We Provide Stainless Steel Fabrication Services
Whether you have a brand new project or are in need of improvement on existing work, our ingenuity in stainless steel is unmatched. We are capable of providing stainless steel fabrication for your building needs. Our staff is experienced in detailing, estimating, grading, cutting, and welding that is sure to provide you with an accurate measure of stainless steel for your project.
We Offer Computer Numerical Control Machinery Fabrication
Computer Numerical Control (CNC) involves the manufacturing process of a computer giving a series of instructions to a machine, which then carries out the intended task. The benefits of using CNC machinery is that it can often lead to greater precision than that of manual work. Other advantages include:
Limits errors
Keeps work consistent
Produces complex designs
If you're interested in CNC machinery fabrication, please contact us for more information on the process as well as an estimate for your project.
Materials we can manufacture:
Steel
Metal
Other miscellaneous metals
We Focus on Small and Large Commercial Projects
Our previous work is an example of our capability to handle a diverse set of construction projects. As both a fabricator and supplier, we distribute metal, steel, as well as joist and deck supplies. While we are NOT contractors, we work with contractors to provide their material needs. In addition to handling multi-million dollar contracts, we also take on smaller tasks such as new additions to a building. Our staff is well-equipped to handle your unique needs.
How Our Process Works
You can email sales@steelspecialtiesinc.net regarding your project and someone from our team will respond to you ASAP. We will then be in touch regarding an estimate for material and timeline of the work. If you're looking to purchase material, please note that all products come in standard sizes of 20 ft, 40 ft, and 60 ft, and shorter remnant sizes are also available.
Contact Us Today
As you prepare for your next construction project, keep Steel Specialties, Inc. in mind. We can help meet your business needs for steel fabrication and other miscellaneous steel fabrication needs. Contact us today at 915-590-2337.