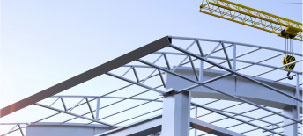 Our shop capacity to date includes:
Columns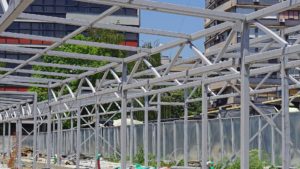 Steel columns are designed to be durable, safe, and permanent features of the building's foundation. Also referred to as pillars, these horizontal structures can be found as far back as 2600 BC in Egyptian architecture. You can think of columns as the skeleton of the building. Together with beams, the horizontal members, they act as the support system for the rest of the construction. Columns also come in a variety of materials including concrete, timber, brick, and steel. Given the excellent compressive strength of steel, selecting this material is beneficial in projects that boast a weather-resistant outcome. 
Using our CNC Robotic Welding Machine our fabricators can produce up to 10 column assemblies in one day, whereas a manual welder can only produce up to two columns in the same period of time.
How to Utilize Steel Columns in Construction Projects
From schools to hospitals, and nearly all the buildings we see today, steel columns are utilized in construction projects far and wide. In modern architecture, a popular design is exposed steel columns. When used in combination with large windows and high ceilings, they can make a building appear larger than its true size. Similar to wearing vertical stripes to appear taller, being able to see the length of steel pillars can create the illusion of a taller building. Another architectural trait of an exposed foundation is that it enforces the idea of strength and function to onlookers.
Examples of Steel Columns in Construction Include:
Airports
Banks
Car dealerships
Churches
Commercial buildings
Community colleges and universities
Multistory parking lots
Types of Steel Columns
Steel columns support walls and ceilings, they also give buildings their basic shape. Ultimately, the project engineer will decide the type of columns that are needed according to building codes, which must create a safe and stable structure. The three most popular shapes are:
Solid angles and channels. Primarily used in commercial buildings, these solid steel columns come in I-beams, U-shaped, and simple angle brackets.
Concrete-filled. These type of columns are filled with concrete to add fire protection and can be reinforced with rebar to add extra strength.
Adjustable. Consist of a hollow tube with a steel plate attached at one end. The height can be adjusted during installation.
*Contact us regarding your size, shape, and quality requests.
PLEASE NOTE: Column selection should be based on structural calculations determined by a professional engineer. We are not responsible for the installation, alteration, or modification of the completed product.
Contact Us Today
If you're a contractor in the El Paso area in need of steel material for your next project, get in touch with us today at 915-590-2337. We can also offer advice on material, size, and shape. You can also email us your questions regarding ordering material at sales@steelspecialtiesinc.net. We look forward to doing business with you.