What is Reinforcing Steel?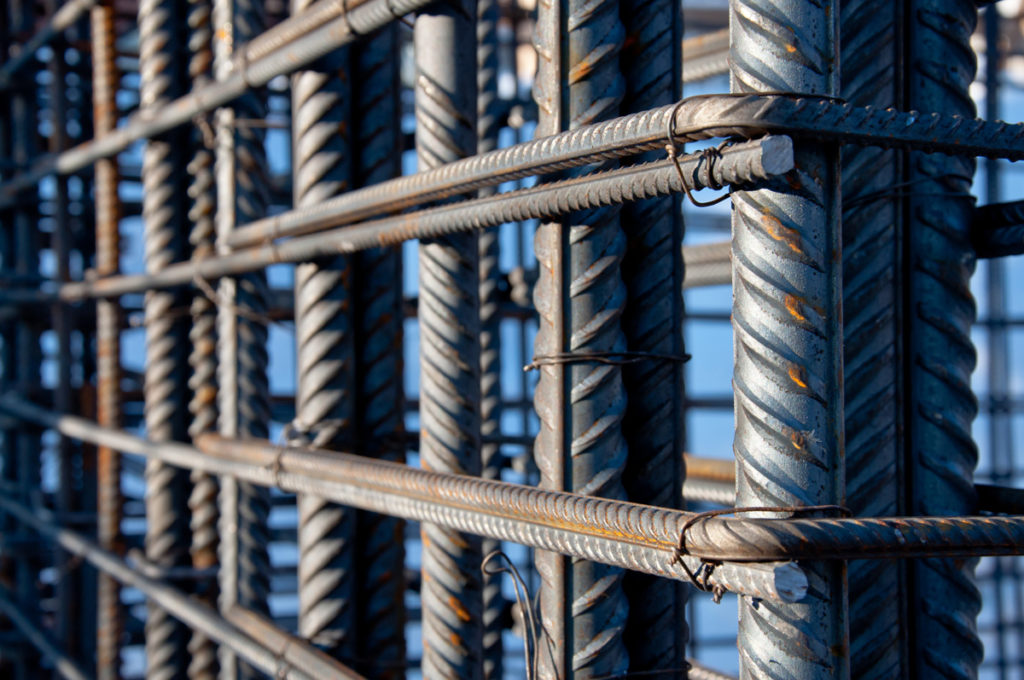 Reinforcing steel is one of the construction industry's most important and widely used components. As the name indicates, it's made of steel and used to reinforce various components and items, specifically concrete. We will delve into everything you need to know about reinforcing steel, including what it's made of, how it's made, and where it's used. 
If you are looking for reinforcing steel or rebar in El Paso, Steel Specialties can help. Contact us online or call (915) 590-2337 to learn more about our products and services.
What is Steel Reinforcement? 
Better known simply as "rebar" or steel reinforcement, reinforced steel consists of long steel bars. These bars often have a series of jagged, uneven notches and grooves on them, designed for increased grip and tensility. Steel reinforcement is primarily used to reinforce concrete by adding strength, tension, and durability to concrete projects. It's used for vertical and flat concrete structures such as walls, skyscrapers, bridges, and foundations. 
Rebar is typically made using a method called the Electric Arc Furnace steel-making process. Using this method, scraps of steel of all kinds are melted and molded together until it forms molten steel. This concoction is then poured into casting and undergoes several other processes until it comes out in the form of a solid, durable steel bar. 
Why is Steel Reinforcement Necessary? 
People who are unfamiliar with how concrete works don't understand why it needs reinforcing steel. They see a thick, solid wall of concrete and think there's no way that anything could ever happen to it. However, concrete in and of itself has very little tension and way too much compression. As a result, concrete can't shift or move at all, which means it will crack and break under heavy weight or pressure. 
By periodically adding reinforcing steel (rebar) into the concrete, it has increased tension without losing any compression. As a result, it's far less likely to crack due to heavy pressure, increased weight, or temperature changes. Cracking is a leading cause of concrete damage and repairs and also presents structural issues that could lead to serious problems.  
Different Types of Reinforcing Steel
To accommodate any concrete construction project, there are several different types of reinforcing steel rebar that you can use. Each type of rebar serves the same purpose, but it's built and designed differently depending on your needs. Contact us if you aren't sure which type of reinforcing steel is right for you. 
Prestressing steel bars are more like thick, hard wires than bars. Essentially, this type of reinforcing steel consists of two to seven carbon steel wires or rods that are welded together into a thin, flexible, solid bar. Prestressing steel bars have the most flexibility and tension but aren't necessarily the strongest type of rebar. 
Hot Rolled Deformed Steel Bars 
Hot-rolled deformed steel bars are the most popular and common type of reinforcing steel in the construction industry. They're the bars you typically see on any construction site and are used in foundations, walls, and other structures. Hot-rolled, deformed steel bars also have the ribbed edges you often see on rebar. 
Unlike hot rolled deformed steel bars that have ribbed edges, mild steel plain bars are a smooth type of rebar. As such, they aren't quite as strong or tensile as other types of rebar but are more eco-friendly to produce. 
Cold-worked steel bars are very similar to hot-rolled deformed steel bars, with one exception. After getting hot-rolled, the steel bars undergo a second rolling, this time with cold working. While similar, cold-worked steel bars are slightly weaker and less ductile than their hot-rolled counterparts. 
Contact Steel Specialties for the Best Reinforced Steel in El Paso
No matter what type of reinforcing steel (rebar) you need, Steel Specialties is the place to get it. We're a top producer of rebar and reinforced steel in El Paso and will surely have just what you need. Contact us online or call (915) 590-2337 to place an order or for a full list of rebar options.